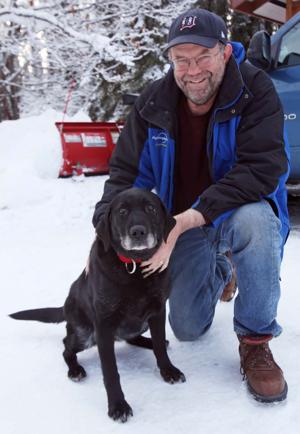 Eleven-year-old Madera, a Labrador retriever, had the odds against her when she wandered away from her Ester home in the midst of a cold snap earlier this month.
Madera is completely blind because of an autoimmune disease, and the temperature was 40 below, said her owner, Ed Davis. Usually when it's really cold out, she wants to come inside immediately after relieving herself. But for some reason, Madera ventured farther away when his wife let her out on Feb. 6.
Davis was at work at Pump Station 4 of the trans-Alaska oil pipeline when Madera went missing. He came back to Fairbanks on Feb. 19 without much expectation of finding his dog.
"My best hope was to walk those trails and look for a track that might be hers," he said. "My best hope was to find a frozen dog."
http://tinyurl.com/opdg9gf