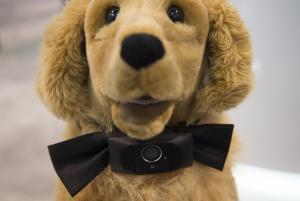 The International Consumer Electronics Show in Las Vegas went to the dogs with the unveiling of a "smart collar" outfitted with a GPS tracker and a video camera.
Motorola unveiled the Scout 5000 smart collar at the trade show and demonstrated how the canine-mounted device includes a GPS tracker, WiFi connectivity and a 720p camera that beams video to the pet owner's smartphone.
The wearable for pets also includes a feature to track exercise and a speaker to allow owners to talk to their pooches through their phones.
http://tinyurl.com/lvw4jed